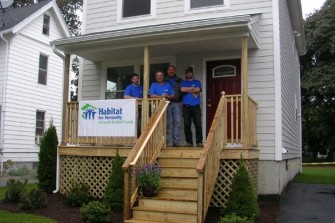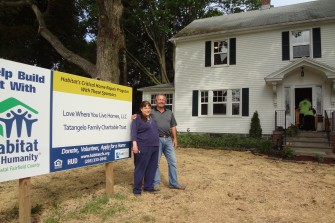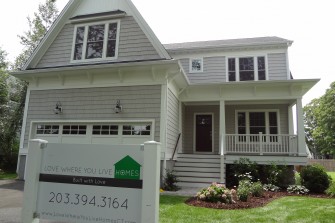 Keith Cook, Co-President and Director of Construction Habitat for Humanity of Coastal Fairfield County

Glenn is a proactive problem-solver. He wants things fixed without wasting time in analysis paralysis.
Even though he is a very successful builder and developer, Glenn has never lost sight of the fact that some people in the community need a hand up. His leadership to build a house in 4 ½ days with a large group of contractors for a family selected by Habitat for Humanity demonstrates that drive to help. The recent makeover in Fairfield is another example.
Glenn is always willing to share ideas with Habitat to help us improve. Similarly, he has been an active mentor to many people in the construction area.
He also has a wonderful daughter who keeps him organized and out of trouble!
Holly Flynn, Homeowner, Recipient of Habitat for Humanity of Coastal Fairfield County's Critical Home Repair Program
Fairfield, CT
It looks so great. It's so beautiful. This is like a whole new world!
Lori & Chris Costello, Homeowners
Trumbull, CT
I wanted to take the opportunity to thank Danielle and Glenn for everything they did to make our new home just perfect. It is better than we could have ever imagined.
You both made everything so easy from start to finish. It was overwhelming to see an empty lot and imagining all that goes in to making it a home and you two exceeded all of our expectations.
We could not be happier and would recommend your company to anyone who in considering a new construction for their next home.
Rita Tanis, Sales Executive, Prudential Connecticut Realty
Fairfield, CT
Working with Glenn and Danielle gives new definition to consummate professionalism. Clearly they love what they do! Their enthusiasm is matched only by their integrity and unparalleled attention to detail. Every home is unique…a masterpiece that seamlessly incorporates maximum functionality in every square inch. I am very honored to be affiliated with Love Where You Live Homes LLC
Bette Gigliotti & Denise Walsh, Gigliotti & Walsh Fine Properties, William Raveis
Fairfield, CT
Glenn and Danielle accomplish their work in a professional and thorough manner and on schedule. The homes are well constructed and we have received many compliments on the design and interior finishes. From the ground breaking to the final product we have found Love Where You Live Homes LLC to be an effective, professional organization which delivers on its promises. Everyone associated with the process is responsive and accessible ….I would recommend this builder for any construction project.